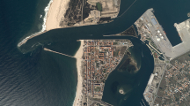 Aerial Photography
Publicado a 21/01/2014 e Revisto a 10/12/2019
Aerial Photography Maps of Aveiro Region
Here you will find aerial images from different periods, at a regional and municipal level, where you can view the changes of the territory over the years.
Click on the following links to access specific maps.
Metadata of maps found here: Metadata
We hope that these maps are a useful tool to find what you're looking for, while exploring the information available about the Region.
If you didn't find what you're looking for, send us an email (geral@regiaodeaveiro.pt) with aspects that you would like to see published.
Tags: aérea, Fotografia, ortofoto, sig